Fix your LinkedIn profile to attract opportunities you really want - Tips by TEKsystems
to toukok. 19 10:50:00 2016
Talent2 is a recruitment firm and part of Career Star Group like MPS Enterprises.

Every day professionals are inundated with emails and InMails from recruiters. These messages usually mention "great opportunities" that "fit your skillset," but how often is that actually true?
There are some simple ways to cut down on the unwanted messages while encouraging recruiters to approach you with the right kind of positions. LinkedIn depends on a number of complex algorithms that track keywords, common connections, employment history and many more pieces of data, but basically it all comes down to the keywords and job titles you're using in your profile.
Start by making sure your headline, summary and past experience fit what you currently do and where you see your career going.
Optimizing your headline
Your headline is the most important section of your LinkedIn profile, so it's essential it matches a standard job title in your field. Why? So LinkedIn's aggregators will match you with keyword searches when recruiters look for new candidates. Do a quick search on job boards and LinkedIn to see what a typical job title is for your current position or refer back to the job description provided when you first applied for your job.
A clear summary attracts the right jobs
Your summary can provide recruiters with valuable information they wouldn't usually get from your standard resume, so feel free to get a little more creative here. Keep it brief—a quick scan should reveal your strengths and give a clear indication of the types of opportunities you qualify for and want. Make sure to highlight some of your top accomplishments in the last few positions. Here's what you should include:
Your current job title
A summary of responsibilities and goals for that position
Your future career ambitions, using standardized job titles and keywords, e.g., senior, manager, team lead
Highlighting your experience
Unlike with your resume, which needs to be incredibly brief, you have more room to describe your position—but recruiters still aren't looking for a short story for each job role. After scanning your profile, recruiters should have a good idea of both your technical and soft skills.
To get started:
Write 1-2 sentences about your main duties and how you've contributed to the success of your team
Include 4-6 bullets about IT skills and achievements while in the role
Reference any certifications or training courses you've completed and how they helped you succeed in this role—you want to show growth and willingness to learn
Use action words and concise sentences that drive your points home
Pro tip: Are any of your projects available to the public? Or maybe something you worked on was mentioned in a company case study? Link to any websites, apps or programs you've contributed to while at the job.
Filtering out the junk jobs
Tired of getting deluged with InMails about irrelevant jobs that don't match your qualifications and ambitions? These two tips can help cut down on that traffic:
Consider the keywords that might be driving most of your irrelevant jobs and remove them from your profile; e.g., scrub a programming language that doesn't reflect your current interests
Be clear about your current seniority level and job type in your headline so a recruiter can quickly see if a job would be a good match
Making these simple tweaks can open up a wide avenue for career growth—even if you're not looking for a job right now—while decluttering your inbox.


Written by Katherine Kozelski, Social Media Coordinator at TEKsystems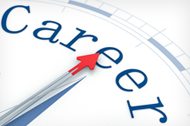 Current events
24.04.17
24.04.17
24.04.17
24.04.17
05.01.17